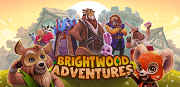 Build your own town by clearing out a jungle. Create beautiful spaces with your own houses, buildings and collectibles.
Things to do in this fun filled lush, mysterious, uncharted jungle land:
● Use your sword or axe to slash through the jungle like a samurai
● Construct beautiful rayman houses and buildings to live in
● Farm, grow and harvest crops, fruits and vegetables to survive
● Decorate your house, land and garden with flowers and trees
● Unlock powerful characters like a ship pirate, collectibles, special gifts and many more items as you level up
● Uncover surprises by cracking open easter eggs, wood crates or clearing debris or hay
● Discover your adventerous, construction instincts and and build a great town
● Join the action and earn rewards like sword, gold, spirit and silver coins to progress in the game
● Mine the land for hidden treasures
● Play mini games, quests and team challenges
● Compete with friends like raman on social team challenges and win big rewards
● Explore life in the woodlands from a long time ago i.e. ice age
● Build a thriving sanctuary from the land for your neighbors
● Become an adventure capitalist and help Wally, Rowan, and other heroes and characters settle into their civilisation
Join the quest in the exploration of King Lionheart's secret and adventurous past ! Conquer and breathe life into the lost woodlands.